Blog is a place where you can post anything you like. Yes! It's where you can post your
ramblings, rants, raves, impression about something, reviews, wants and needs, expressions, rebellions, greetings, collision of your feelings, sanctuary of your emotions, where your alter ego lives and the other things you can't burst out publicly
.
But that isn't all. One of the reasons why we are here is to
make friends
in the blogosphere and to mingle with new people with
different personalities
.
And in my blogging life, I have met a lot of bloggers with cute and decorative blogs and of course, with
awesome posts and articles
. Yesterday
(I guess)
, I have just received an award from
Susan
, and she did told me that I belong to that "TCTBT" Award.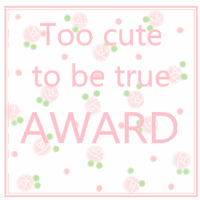 THANKS A LOT FOR THIS!! WIEEEH!
At the moment, I also wanna share an award to those people who are somehow I considered my Cyber friends and who are once my blog visitors and keep reading those nonsense post of mine upto now.
[i'll improve this next time!]
Copy this code and paste in your blog. Leaving the link to my blog is a favor, please don't remove, that will be a recommendation as well.

Awesome blogs so far:
♥
Susan
(ofcourse!)
♥
Anne
♥
Sushi
♥
Sabrina
♥
Jagged
♥
Vhie
♥
Jamie
♥
Mariel
♥
Faith
♥
Miyuki
♥
Sarah
I hope that all of us will be close friends. Cheers!